Colorado Springs is the second largest city in Colorado, behind Denver to the north, and defines the northeastern tip of the south central region of the state.
COLORADO SPRINGS, COLORADO 7-Day Weather Forecast
Things to See…
Garden of the Gods, 1805 N 30th St. (I25 Exit west 2.5mi, then south on 30th St) – A series of dramatic sandstone formations, enclosed by a city park. Excellent for hiking and technical rock climbing.
Pikes Peak, (West about 10 miles on Cimarron St./Rt 24) – The most famous peak in Colorado, inspiring the song America, the Beautiful, dominates over the city to the west. Drive to the top, or ascend by Cog Rail [4]. Hike up Barr Trail to the summit, especially beautiful in the summer with all the wild flowers. Run up during the Pikes Peak Ascent or run up AND down in the Pikes Peak Marathon.
Cave of the Winds, (West about 6 miles on Cimarron St./Rt 24) – A series of caves near Manitou Springs, offering tours.
Cheyenne Mountain Zoo, 4250 Cheyenne Mountain Zoo Road (I-25 Exit 138, west to the Broadmoor Hotel, then right and follow signs) – A small, scenic mountain zoo with many exotic animals.
Seven Falls, (West on West Cheyenne Blvd) – a privately owned series of falls and nature trails. Fills up quickly on weekends, but you can instead visit neighboring Helen Hunt Falls.
Helen Hunt Falls, (West on West Cheyenne Blvd, right at sign) – A short hike to some great views, within North Cheyenne Cañon City Park.
United States Olympic Training Center, 1 Olympic Plaza – Major U.S. Olympic training facility, with an aquatic center, gymnasiums, shooting center, and velodrome. Free tours daily.
United States Air Force Academy, (I-25 Exit 156B) – Academy nestled in the foothills of the Rampart range at the north end of town, you can tour the famous Chapel and other sights.
Air Force Falcons, (Air Force Academy) – The Academy's athletic program offers college sports action throughout the school year. The best-known program is the football team, long a solidly competitive program. Football games especially offer a unique combination of military pageantry and traditional college sports atmosphere.
May Natural History Museum, (I-25 Exit 140, South 8 miles on Rt 115, right at huge beetle) – An eclectic but unique museum south of town, with thousands of large insects collected by John May from around the tropics. $6. edit
ProRodeo Hall of Fame and Museum of the American Cowboy, 101 ProRodeo Drive – The only heritage center in the world devoted to professional rodeo, with two multi-media presentations and Hall of Champions.
Garden of the Gods Trading Post, (South end of Garden of the Gods park) – Don't miss the largest art gallery and gift shop in Colorado. Sample delicious buffalo burgers and more at the Balanced Rock Cafe, on the outdoor patio, under the shade of the cottonwood trees.
Ghost Town Museum, 400 S. 21st Street – Step back in time to Colorado's gold-rush days and experience an 1800's old west town frozen in time. Pan for real gold! $6.50 adults, $4 children, under 6-free. edit
Western Museum of Mining and Industry, 225 North Gate Blvd., – Featuring hands-on exhibits, gold panning, a working steam engine and Oro and Nugget, mascot burros!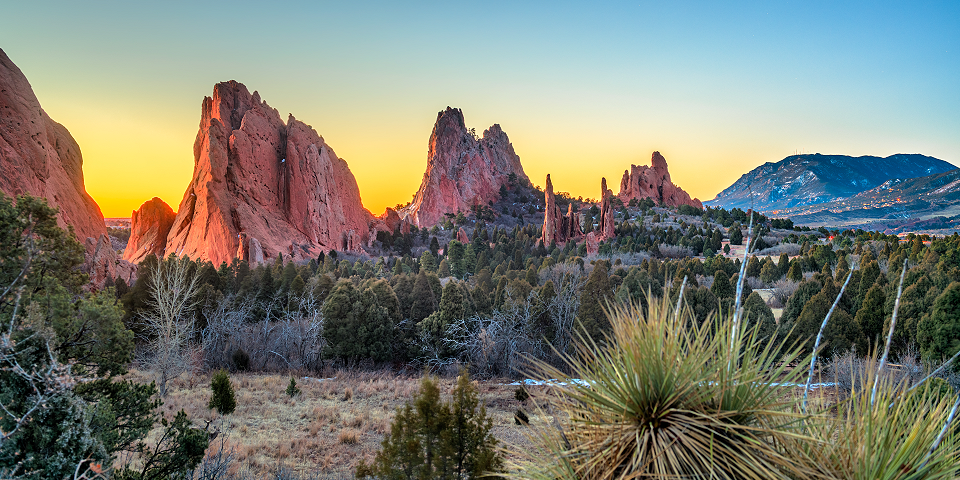 Things to Do
Royal Gorge Mountain Bike Tours® (Royal Gorge Bike Tours), 1420 Royal Gorge Blvd. Canon City (Hwy 50 and 15th st.) – The Royal Gorge regions first and only mountain bike tour company! An absolute "must do" when visiting Colorado Springs. Experience awesome guided mountain bike tours in Colorado.
Hiking, the Pike National Forest to the west, Pikes Peak, and numerous city parks offer ample hiking opportunities.
Horseback Riding

Academy Riding Stables – Enjoy a ride through beautiful towering sandstone rock formations in the Garden of the Gods.
Mark Reyner Stables Inc 3254 Paseo Rd.

Cycling

Challenge Unlimited-Pikes Peak by Bike – Bike down over 7,000 feet from the top of Pikes Peak with professional guides, mid-April-October. Bike helmet, all-weather gear and meals are included.

Rock Climbing, at Garden of the Gods and Red Rock Canyon (non-marking chalk only, register first at the Garden of the Gods visitor center), and in North Cheyenne Cañon City Park.

The Colorado Climbing Company – Climb with certified, professional guides in the Garden of the Gods, Cheyenne Cañon, Red Rock Canyon, and more.

Whitewater Rafting on the Arkansas river, about an hour south of town.

Lost Paddle Rafting® Rafting Colorado-Royal Gorge Raft Colorado! Offering awesome whitewater rafting trips in Canon City Colorado on the Arkansas River at the Royal Gorge.
Echo Canyon River Expeditions
Royal Gorge Rafting Trips
Arkansas Valley Adventures

Pets, Colorado Springs is very dog friendly, with excellent areas for off-leash hiking at Red Rock Canyon Open Space, Palmer Park, and Bear Creek Regional Park
Skate

Colorado Springs World Arena Ice Hall

Volleyball

The Volleyball Shack. Indoor
The Sand Pits. Sand

Card Games

ACBL Unit 360 Bridge Center, 901 N.17th St – Sanctioned duplicate games most afternoons and many evenings (except Sunday).

River Runners Royal Gorge Rafting Center (Whitewater Rafting near Colorado Springs Colorado) (8 Miles west of Canon City, Colorado on US HWY 50). Complete your Colorado Springs vacation with a whitewater rafting trip on the Arkansas River. Since 1972 River Runners has been providing fully guided family friendly whitewater rafting trips daily at their Riverside Rafting Resort in Buena Vista, Colorado and Royal Gorge Rafting Center in Canon City, Colorado
Places to Shop…
Chapel Hills Mall, 1710 Briargate Blvd. (Near N. Academy and I-25). Shopping, food court.
The Citadel Mall, 750 Citadel Dr. East (Academy & Platte (CO-24)). Shopping, food court.
Old Colorado City, (W Colorado Ave, between 23rd and 28th Streets). Historic district with shopping and restaurants.
Manitou Springs, (West on CO-24). Shopping, many restaurants, designated national historic district.
Downtown Shopping District, Tejon Street between Colorado Avenue and Boulder Street. (Take I-25 to exit 142 to W Bijou Street. Go east to Tejon Street to find the main shopping district). Many locally owned shopping destinations, such as Terre Verde and Mountain Chalet.
Places to Stay…
The Broadmoor, 1 Lake Ave – A resort just outside Colorado Springs, covering 3,000 acres with 700 hotel rooms and suites, 15 restaurants, cafés and lounges, three championship golf courses, a tennis club, and world-class spa.
Cheyenne Mountain Resort, 3225 Broadmoor Valley Rd. – Offers 316 rooms and suites in eight residential lodges, each with a private balcony and views of Cheyenne Mountain.
Colorado Springs Hotel, 2886 South Circle Dr.
Colorado Springs Marriott, 5580 Tech Center Drive. – Luxury hotel near the Air Force Academy with mountain vistas and Southwestern dining.
Crowne Plaza Colorado Springs, 2886 South Circle Drive – a nice, moderately expensive hotel with rooms and suites and high-speed wireless Internet access.
Silverwood Hotel and Conference Center, 505 Popes Bluff Trail – Newly remodeled facilities located off I-25 in the Rocky Mountain foothills.
Sundance Mountain Lodge (Lodging in Monument, CO – Near Colorado Springs), 1865 Woodmoor Drive. – Modern, eco-friendly Colorado mountain lodge and hotel. Beautiful views of Pikes Peak. Located between Denver & Colorado Springs, CO. Spacious rooms and suites.
Rodeway Inn and Suites, 1623 S. Nevada Ave (Exit 140 and three blocks south of I-25 on Nevada) – Convenient location, walk to restaurants, near attractions and down town. 2 miles to World Arena.
Garden of the Gods Club, 3320 Mesa Road – Private club that also offers hotel lodging with restaurants, golf courses and spa treatments.
Places to Eat…
The Warehouse Restaurant, 25 West Cimarron Street
Il Vicino Wood Oven Pizza & Brewery, 11 S. Tejon – Great gourmet pizzas.
The Blue Star, 1645 S Tejon (next to Bristol) – Great atmosphere and good food.
Shuga's, 702 S. Cascade – Funky.
La Unica, 3317 W Colorado – Good Mexican food.
Big Train, 3050 N Nevada – Good place for chicken fried steak breakfast.
Biaggis, (shops at briargate). Great gourmet Italian food. A little on the expensive side but well worth it.
North End Diner, 3005 N Hancock. – Big, cheap breakfast plates.
Jake and Telly's, 2616 Colorado Avenue in Old Colorado City – Great Greek food.
O'Furry's, 900 E. Fillmore – Hole-in-the-wall Irish-style pub.
Colorado Bean, S. Carefree & Powers (next to ticket counter of the Cinemark theater). Coffee, drinks, Mexican food.
Frankie's Bar & Grill, 945 Powers & Galley – Neighborhood bar/grill since 1984.Burgers and wings.
Frankie's Too!, 7376 McLaughlin Rd, Falcon (Woodmen & Meridian) – Sports, spirits and food.
Jun Japanese, 1760 Dublin, 3276 Centennial. – Very good Japanese
Rico's Coffee and Wine Bar, 324 N. Tejon – Wine, chocolate, coffee, tapas, and great music.
Pueblo Viejo, 5598 N. Academy. – Authentic Mexican food.
Solo's Restaurant, 1665 N. Newport (Powers & Fountain). – Ok diner, and you can eat inside a KC-97 aircraft, lots of aviation decor.
Sheldon's, 204 Mount View Ln #16 (off N Nevada, south of I-25). – Awesome breakfast and daily meat sandwiches or plates for lunch.
Edelweiss Restaurant, 34 E Ramona Ave (.5 miles south of exit 140). – Authentic German food, beer, wine. Biergarten, Ratskeller, and strolling Musicians on weekends.
Pizzeria Rustica, 2527 W. Colorado Ave (26th & Colorado off US 24 @ 26th). – Authentic Neapolitan wood-fired pizzeria
The Margarita at PineCreek Restaurant, 7350 Pine Creek rd (Northwest corner of Woodmen & I-25). – Soup and Salad Lunches, Prie Fixe Three & Five Course Dinners.
TAPAteria, 2607 W. Colorado Ave (26th & Colorado off US 24 at 26th). – Authentic Barcelona-style tapas and wine/cocktail bar.
Front Range Barbeque, 2330 West Colorado Ave. – Front Range BBQ offers up home-cooked Southern Meals & Slow Smoked Tender BBQ!
Getting There
Interstate 25 is the only Interstate, running north-south through the city. Colorado Highway 83 provides a secondary route between East Denver and The Springs. US Highway 24 connects the city with mountain communities to the West and Limon Colorado on the Eastern Plains. Denver is 70 miles north on I-25. Albuquerque is about 380 miles south on I-25.
Getting Around
Colorado Springs lies along the foothills east of the Rocky Mountains. It runs north-south along I-25, with the Air Force Academy to the North, downtown to the south, and Pikes Peak rising in the west.